Carlsen's Custom T's
Brevard's Digital, Direct to Garment Printing Service
A Few Quick Ideas - Be Creative
Have a Cool Idea for a T-Shirt for You or a Friend?
Direct to Garment printing is the easiest way to explore your creativity!
If You Can See It ...
We Can Print It !


Bring Us Your Digital Images and See What We Can Do!
Whether you want to personalize individual garments without the cost and minimum runs of embroidery or put your Grandmotherís picture on a shirt for her 80th birthday, Direct to Garment printing is the way to go.
Custom T-Shirt, Personalzied T-Shirt, Reunions, Birthdays, Memorials, Clubs & Churches, Schools Groups, Photo Tees, Corporate, Business, Personal and more.
Carlsen's Custom T's has everything you need to get the job done. Whether its your digital image or artwork or our custom design, your garments will be of the highest quality and at an affordable price. No minimums!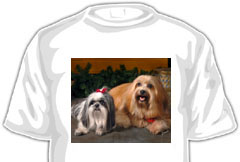 The Easiest & Best Looking
T-Shirts for Your Workforce
As Brevard's finest Direct to Garment printer, Carlsen's Custom T's is especially ideal for family reunions, small businesses or anything you need personalized. Great service for small companies, printing for resale purposes or just printing samples. Give us a call!