Brevard County, Melbourne and Indialantic Banner and Poster Printing
Carlsen's Custom T's offers full color banners 30" wide (25" printed area) and up to 8 ft. long. Banners are an inexpensive way to display your event or store, along with being weather proof, vinyl banners can be reused year after year.

Charity events, real estates open house, grand openings are just a few of the many uses for banners. In Brevard County, we are the source for full color printed banners for small businesses and large corporations, no job to big or too small. Give us a call (321) 777-2381.

You'll be impressed with Carlsen's quick banner printing, all work done on site, no middle man. All banners come with grommets and are ready to hang.

We service Palm Bay, Melbourne, Melbourne Beach, Indialantic, Indian Harbour Beach, Satellite Beach, Patrick Air For Base and Viera. For your next school, charity or retail event, give us a call.

Our pricing is highly competitve, our quality printing and service is unmatched.
Full Color Poster Printing in Brevard County, FL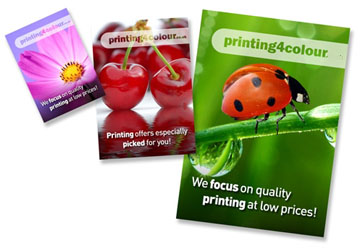 Carlsen's offer poster printing services for your small business, schools and corporate events here in Melbourne, Palm Bay and Beachside South Brevard. Full color printing up to 36" wide. Fast turnaround, excellent service and experience printing assures you of a quality poster production. Poster printing is a great way to display information and advertising on a larger format, they get your message across!

Not sure what size of poster you need. We can help, from our experience we know what works and where. For smaller size, 8.5" x 11" (standard sheet of paper) posters, we have found work well for announcements and advertising in areas with limited display "real estate". Office circulars and desk signs and directions are also make use of small format posters.

Mid size poster are commonly used to printing poster for sporting events, concerts or art galleries, typically found in smaller retail shops or health clinic. This size is not overwhelming, but large enough to catch the attention of a passerby.

Larger format poster printing is great for advertising and announcements for outdoors use. Typically the text is set in a larger font and use of eye catching graphic, meant to attract from a distance. Commonly used for stores and businesses that are set back off of the road or roadside signage directing potential customers to "turn here" messages. For poster printing in Satellite Beach or Indian Harbour Beach, call Carlsen's Custom T's (321) 777-2381 today.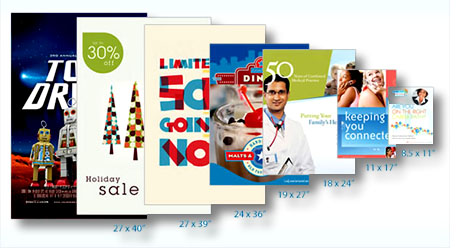 For Poster or Banner Printing in Brevard County Call Carlsen's (321) 777-2381